Customer Reviews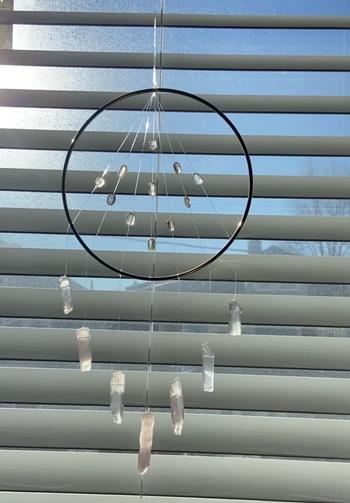 04/09/2022
Brings me joy every single day!!
I have the Rose Quartz style of this Crystal Suncatcher in my living room and it brings me joy every single day! I love it so much, I actually cried when I opened it. The love that Ashley infuses in every piece really comes through in every package. These suncatchers are so gorgeous and magical, highly highly recommend!! Put it in a place you can enjoy it every day, you won't regret it!!
Jess K.

United States
05/26/2021
Beautiful and Inspiring
I have loved every product I've purchased from Fierce Forward. This one was truly special for me. My mom turns 70 in July and I wanted to give her something I knew she wouldn't be expecting, yet would love. I ended up giving the present to her early so she could take hang it up right away. It is not only extremely high quality but also brings a love and light to the room. It was so amazing that I ordered another one for myself and now am wanting to the smaller version for another room in my house! <3
Christina C.

United States
05/26/2021
Fierce Forward Jewelry
Christina, I'm so happy you love your new piece and wow, how amazing that it was a present for your mom's 70th!! so special. I'm so happy you're also spreading the joy and love to yourself babe>3
03/23/2021
I LOVE IT!!
My sun catcher arrived in the most perfect packaging to ensure it would make it here in one piece! It came with a Fierce Forward Empowerment card, and each crystal was carefully wrapped! Overall I had a wonderful experience!! I absolutely love and recommend purchasing your gems through Fierce Forward!! You will not be disappointed!!
Allyson C.

United States
03/24/2021
Fierce Forward Jewelry
Allyson, thank you so much for your review! I'm so happy you loved your whole experience. Enjoy your new Sun Catcher! Ashley
03/08/2021
LOVE LOVE LOVE
LOVE my Quartz sun catcher! I have been going through a very difficult time the past year and wanted something that would bring in strength to my space. There is a soothing comfort when admiring the sun catcher. I am creating a space that I can do my yoga and meditation in and this fits perfectly in that vibe. My next purchase will be the Raw Gemstone Hanging Chakra Sun Catcher to anchor the other side of the area I'm creating. As always Ashley has created another piece of art.
Sandy

United States