Customer Reviews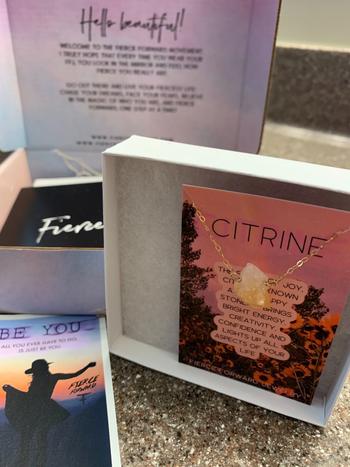 08/23/2021
Citrine Joy Necklace
I absolutely love my new purchase from Fierce Forward, not only is the necklace gorgeous and whimsical, (I've received many compliments already), but the packaging was unique and thoughtful and I could tell a lot of time and care went into it. I'm also impressed by how many tracking alerts I received telling me that the order was received, shipped, delivered, etc. I appreciate that kind of communication and it came right on schedule. So thank you Fierce Forward for doing a great job, will definitely be buying from you again in the future! :)
Laura D.

United States
12/21/2021
A spark of joy!
Every time I look at this necklace it makes me smile. It brings warmth with the shades of sunshine from the citrine. Being handmade & each piece unique makes it extra special. It was sent with care and came with other beautiful fierce forward jewelry I chose & the handwritten note from Ashley that always inspires me.
09/01/2021
Absolutely Stunning!
I can't get over how beautiful this necklace is and what it means to my dear friend. I bought this as a gift and the designer rushed it for me! It came with the most amazing packaging and handwritten note. So thoughtful and grateful to find this amazing designer. I will definitely be ordering more!
Corinne B.

United States
06/30/2021
Perfect Necklace!
This necklace is the perfect balance between dainty and statement. I love the thin chain with the larger stone. It hits at the perfect spot on my neck, goes with everything and I love the intention. Absolutely love it!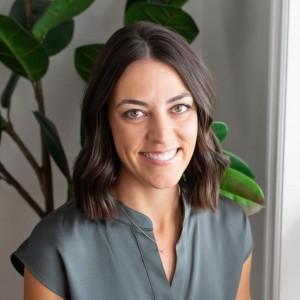 CM
Caitlin M.

United States
07/01/2021
Fierce Forward Jewelry
So happy you're happy! Thank you for your love and support >3
06/19/2021
So so cute !!
The necklace is really cute and the packaging was amazing! Shipping was fast as well, overall great product and experience
Nancy

United States
07/01/2021
Fierce Forward Jewelry
So happy you had a fierce experience Nancy! Enjoy your new JOY Necklace and keep rockin life