Customer Reviews
07/28/2021
Sandy F.

United States
Favorite
One of my favorites even matches my tattoo. :0)
05/16/2021
Selena

United States
Love it!
I really love this necklace. I got it in 16-inch so I could layer it with other Fierce forward necklaces. I love the evil eye because it helps to protect my energy especially since I work with the public.
04/30/2021
fallon l.

United States
In LOVE
The packaging was so thoughtful. I felt so seen and celebrated. I honestly can't get myself to part ways with it, it's tok pretty not to repurpose! The entire experience has been very empowering. i am in love with my layered chokers and plan to wear them every damn day! Will def be purchasing more pieces soon! Love fiercely!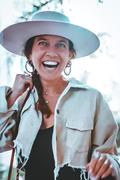 05/03/2021
Fierce Forward Jewelry
Fallon, thank you for your super kind review. I love when the whole experience hits and means something! You are rocking these btw!!!